Time and fate has put us on a plane over the Pacific once again. Is it true that alot of aging hippies wind up in Maui? A young local that picked us up in a "Word of Mouth" chevy van replied with an emphatic "YES". Well I guess the Canadian Princess and Captain Wayne-O must be in the right place. May is an excellent time to Maui the weather is mild and even more perfect than usual. A Gentle breeze making royal palms sway a happy hula.








Ron is continuing his investigation of the fictional land known as Ecotopia* . . . notice his stark white Crown Victoria. We won't be noticed as we sample the surroundings and interview members of the community. Just what are the living conditions and social habits of the Ecotopians? Is it possible to assimilate and adapt to the rural way of life? Ron contemplates the reasons why this wine producer may want to sell off most of their vineyard.
I took this picture of my good friend on day two of our road trip, Hopland CA ~ Fall of '07.
*a socio/political fiction novel by Ernest Callenbach © 1975

Fran Fleet is a crafts person with heart and vision. She skillfully repairs and refurbishes fielder's gloves and catcher mits. She's the best at what she does. It's so cool to meet someone who who makes a living doing exactly what she loves to do. She runs her own shop just the way she wants to. Fran made time for Ron's and my curiosity in a little town near Sonoma State University. Find out everything you need to know about a baseball glove on her excellent website sandalady.com.




Ron and I were checking out the student hang-outs of Sonoma State (famous for it's humanistic psychology program). The bars, shops, and restruants are in Cotati. Very cool bars with a history of live music and wilder times. The prices of meals, drinks, and snacks are quite low. Back in the day Fran created many of the flyers that advertised bands like Stoneground, Lost Planet Airmen, Youngbloods, and others. We visited a few shops on the block long strip. Thank you Fran for taking time to show Ron and I your shop and tell us about life and gloves in Cotati, California.


We met a book dealer named Art on the last leg of our Ecotopia discovery/RanchoBozo.com promotional tour. We arrived at the home of the world famous Mystic Theater: Petaluma, California. Petaluma has down home rural feel and a used book store of great renown. We explored the store looking for a used copy of Ecotopia . . . no copy could be found.

A berzerkley style bookstore indeed. This establishment is a vital cultural asset. Praise be for a surviving independently owned, community supported resource. Filming is only of a tiny portion of this huge basement level. With those redwood beams supporting the main street storefront floor dating the early historical period of the old town. Art offered up some local ecological sensibilities.and he's a fountain of nor cal synergistic networking. Petaluma has docks for boat transport into the north bay. Good rail access and is a historical crossroads for a broad swath of good agricultural land. Still a working class town, my vote is these folks rank right up there as a hotbed of Ecotopian Survivalist Group theory. The Local shops here are holding forth with the help of local governance So far they've drawn the line with resistance and I hope they continue to block those powerful interests lookin to pave over this portion of paradise.

Be brief or be boxers . . . Ron



We found a little tune shop in Mendicino named 'dig music'. . . yeah that's real sad about Village music you gotta love an independent music store that does what it can to be sustainable and promote live music locally. I'm afraid stores like these are endangered.


[RanchoBozo]
[InTown]
[SONGS]
[FIREpit]
[BACKpack]
[COOL LINKS]
[ELKINsDIET]
[science]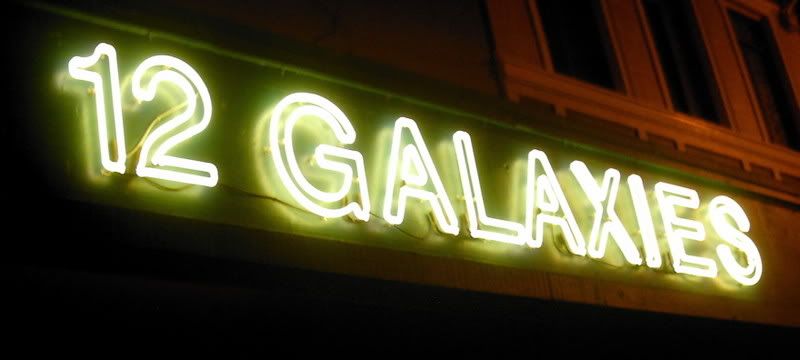 Through Robert's heroic efforts and being one of the true blue good dudes in the world, he's kept twelve galaxies in orbit . . . long enough for Captain Wayne-O's sling shot visit like a little known ecto-galaxic comet. It's been two years since my last close encounter with San Francisco's Mission District Premier Alternative Night Club. By chance I clicked on Dr. Hal's link and discovered this 'may be' the last time for a live "Ask Dr. Hal Show" now that Chicken John and the good Doctor are on Pirate Cat Radio . . . amazing good fortune is upon us Robert, Dr. Hal, Chicken John, KROB, and company have agreed on Monday night LIVE SHOWS for October 2007 at the world famous 12 GALAXIES club in San Francisco.

There's a political happening edge to the show now that Chicken John is running for second place in the San Francisco Mayoral Election . . . The show on September 24th was a major coup: The audience was with it and provided great material lots of funny and clever questions. Chicken John's comedic timing was absolutely on, his mayoral wit oozed, Dr. Hal's oratory renderings rambled with authority, KROB's contributions flowed and puctuated with seamless fluidity, . . . even my dream came true . . . my question was answered and Chicken John asked me on stage for a large shot glass of some vile fluid (the only alcohol I've had in over three months). I couldn't turn down the honor.

Ron Erickson and I have been friends for thirty years. Ever since Ron galantly helped the Canadian Princess one fateful day we've done all the things that good friends do. This was even before she was given that royal title. I believe it was during the first months the Canadian Princess and I first lived together at the original Rancho Bozo in Montecito, California.

The two aging hipsters packed the Vic embarking from Rancho Bozo del Norte on a combination adventure. That is an investigation of sustainability in the gateway town to the redwood empire and a RanchoBozo.com promotional tour to the gathering place of many hippies of the aging kind. Our journey takes us to the ranch of Sean Keppeler his band K Factor and his zany amazing radio station KNGO in Fort Bragg, California. The radio station KGNO is located in a little trailer somewhere on his property near his garage. A Cool Californian Connection for Fort Bragg and Willits will follow shortly also look for Sean's side A and side B coming soon!


Tommy Chong was imprisioned for selling pipes and bongs over the world wide web. That's why we at RanchoBozo.com don't sell anything. Tommy is free and transformed his major bummer into a book of spiritual awakening. He filled the Book Passage of Corte Madera a little town just north of Mill Valley. Tommy is the ultimate cool aging hippy. I remember in the seventies thinking that we finally got into the movies with Cheech and Chong. His albums with Cheech and movies made me feel I could have known him and then I met him. Tommy's book is profoundly titled 'The I Chong' is that Great or Watts! Tommy Chong and Captain Wayne-O (Tommy Chong signing)




Back in '71 in pursuit of retaining my 2-S deferment I transfered from Santa Barbara City to San Francisco State. One Friday night I visited a little honkey tonk (a honkey tonk in the city of San Francisco?) called the Keystone Corner. I saw a band that would change my life forever. Commander Cody and his Lost Planet Airmen rocked my boogie like no other (well I don't know if I even knew I had a boogie to rock at age nineteen). Billy C was talking about their new record on Paramount. I'll never forget the dear Commander's rendition of "First I Look in Her Purse" complete with a snazzy little two step. The Commander was chomp'n on a stogey, Andy Stien was on the Sax leading the Ozone Brass, the late great Lance Dickerson was on drums of course. They were having too much fun and transmitted that fun to us young hippies. Well the truth is I would buy the Airmen's records before the Stones or anyone else's. I was lucky to have been living in the same county as George Frayne aka Commander Cody for many years. I could see his band at Smiley's or the Sweetwater every six months or so. Check out Commander Cody's Last Stand at the original Sweetwater Saloon.

That was then this is now: The Commander Cody Band of Saratoga Springs, NY. George looks and sounds fabulous he hardly has any gray and he's lean as a teen. The classics were tight and smoking. Mark Emerick's redhot lead guitar was on - all necessary sound effects with style and grace. Steve Barbuto knows exactly what to do on the drums to make it right. Rick Mullen on the bass; fingers flailing rocking every number. The Commander made the tunes fresh with new excellent phrasing. George really loves what he does, doesn't matter if it's pounding on the 88s, or painting a masterpiece. The love shows. The Canadian Princess noticed the Commander in the paper. The concert was at the Chamber of Commerce's wine, beer, and art festival in old town Novato. It was a friendly affair with lot's of us first generation hipsters. Here's a picture of the great Commander Cody and Captain Wayne-O. A couple of old military men? Aren't they brave veterans of the thirty year intragalactic war? The Commander always has time for his fans, he's a warm wonderful person and an ultimate musical hero of mine. Commander Cody was huge among the hippies I grooved with on my way and in India and Nepal in the early seventies. I first time I heared the Country Casanova album was in this farout crash pad in London.



THE COMMADER CODY BAND in NOVATO 6/11/06

a couple of years ago



in the New York Museum of Modern Art


NEWER & BETTER COMMANDER VIDEOS (same as Cody's Last Stand above)


My daughter the pixie of the purple type on her seventh move in her eighth year in the land of La . . . called on dear old dad and the Tamobile. I zipped down five with an amazing platform cut by Scott and designed by the good captain himself. Pixie's tower loft in Silver Lake can only be entered via a tiny spiral staircase. "The mission was accomplished" to quote a misguided president. A large dresser was completely dismantled and re-assembled in Pixie's tree lined room. I had a wonderful time rushing across town at odd hours with boxes of pixie dust. I got to get to know Galant John, Clay the dolphin, and the infamous Brite Spot (where I was treated as King). It was one of the best visits ever to the Land of La. The pix says Silver Lake is just like Mill Valley . . . it reminds me more of the Berkley or Oakland hills. Silver Lake does have a distinctly Nor Cal feel and look. Oh this picture is taken in some park in LA . . . not too far from Silver Lake. Oh yes this is the Pixie's 'Button' a RAV4 she purchased with no parental help what so ever!



Dr. Howland Owll & Chicken John w/KROB "Ask Dr. Hal"


Advertised as the last for a long long while . . . it takes on the fervor of participatory democracy on speed . . . funny, rocus, heady, naughty, erudite, goofy, rambunctious, all the other dwarfs and definately loud . . . meet Chicken John and Dr. Hal a dynamic dou you'll not soon forget . . . you're in twelve galaxies at the same time . . . wondering if your question will ever be answered . . . You know there was a reason you moved to the suburbs . . . I had a great time and who knows maybe my question will be answered next time . . . Monday evenings hold more than just an open mic for . . . this old hippy. Fifteen minutes away San Francisco's a world apart . . . wait 12 Galaxies apart . . . Robert the owner of twelve galaxies (who owns one galaxy? much less twelve) asked for an April of Mondays and got it.

October 30, 2005 the most beautiful sunny fall day that San Francisco could possibly muster . . . let Chet take care of the weather "All Reet" . . .





We gathered in thousands to honor Chet Helms, the chief enabler for the San Francisco Sound of the Hippies . . . without dispute . . . we all got to be together one more time . . . thanks Chet





The Stilt People are always a far out addition to any gathering of the tribes . . . I found the butterfly babe most fetching . . . while fluttering above the masses . . .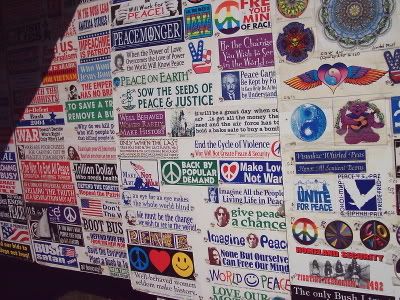 Remember when bumper stickers were kinda popular about twenty five or thirty years ago? . . . well I thought of a bumper sticker back then " STAMP OUT BUMPER STICKER MENTALITY" neat huh?





Costumes that sparkle are always a bonus a shrill reminder that we are all but Vishnu's hollow clowns fooling eachother that we are us or you or me . . . all the stage's a world . . .





The bands played on with the tunes and spirit that transformed the generation that's getting pretty old . . . "I'm Proud to be a Hippy from Olema" . . .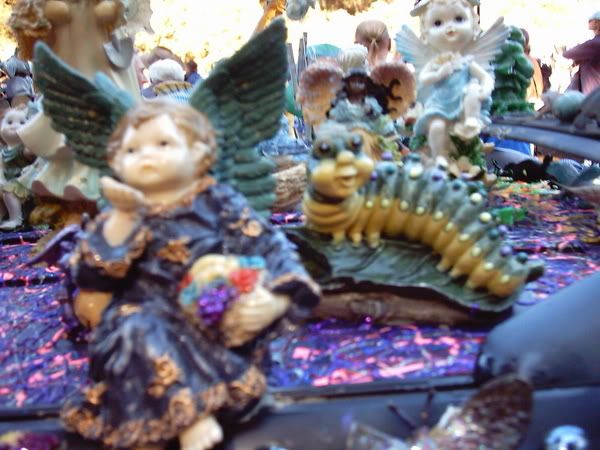 There is an art-omotive-movement (wow cool - that's redundant) there are those artists that take their canvas on the road with imagination whimsy and a glue gun . . . and an econo station wagon . . . taking enviornmental art to the limits (the 55 mph limit may be making a comeback?). . . this will likely become a feature story on RanchoBozo.com . . . Avril Hughes, a fellow human being and multimedia purple princess of peace . . . well we already have a Purple Pixie and a Canadian Princess . . . now a Purple Princess . . . it just had to be . . . check out her hubby's funny web site. I recommend listening to "The South End of the Beach" it's the surfin' song that had to be written.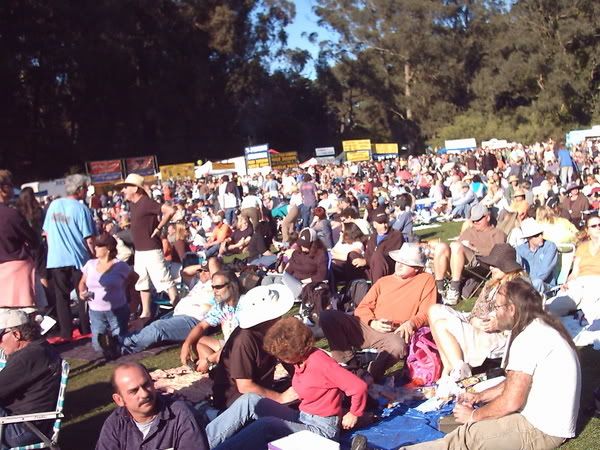 The multitudes it looked as if the chron's hundreds will show prediction was a little off . . . we had the weather, the music, the aging hippies, and all the other ingredients to make this event fly . . . fly . . . it just couldn't fly without the musical pilots and fight attendants. Compare and contrast this photo essay to this one.



To be honest the purple entries are far more interesting and international than well the rest. This is to be expected since my kids are doing far more interesting things (duh?). It's their time the Canadian Princess and I know it but we aren't going down easy . . . not soon . . . a very special thank you to Courtney for teaching how me to put up all these new pictures with PhotoBucket for FREE . . . . . . .



[RanchoBozo] [InTown] [SONGS] [FIREpit] [BACKpack] [COOL LINKS] [ELKINsDIET] [science]



Special Purple Pixie Insert:

Hello my darlings!


I know that it is hard to believe this, since Europe is very much the first world, but it has been somewhat difficult to use the Internet here in Italy. I have much to write, and little time, so here goes:

After a restful day in beautiful Axe en Provence the four of us fearless fighters travel led via Italian train 15 hours in a smelly sleeper cart to Rome. Rome was incredible. It has a decidedly different energy from pristine Paris, but is full of history and life. We stayed in an awesome, clean, pretty English themed hotel called Hotel Lancelot (don't ask why we chose to stay among the Brits while in Rome - but it was a very nice place.( We were directly in front of the Coliseum and a short bus ride to the Vatican, the Pantheon, and the Spanish Steps. We sight-saw during the days and drank entirely too much wine at night, as was the plan!

After a few fun and sight filled days in Rome we rented a car and headed to Tuscany, where 23 of Oliver and Amy's friends and family AND A GORGEOUS HILLSIDE VILLA/FARMHOUSE and pool awaited us! As we drove into Montepulciano, this quaint, perfect cobble stoned hilly town, with all medieval and renaissance architecture and planning, we were stunned with the beauty of the land's topography. Tuscany is the most beautiful place I have EVER been *except for the Caribian, but the second most beautiful place is still pretty good when you are comparing with paradise*. The huge seven bedroom farmhouse the wedding party and guests stayed in was magically located on the top of a remote hill in the middle of all of these vineyards. The pool had a few of the entire valley...i could go on and on.

As for the company and the wedding itself - I also could go on and on. Amy and Oliver's family and friends were fantastic, fun, caring, and interesting. We were able to drink and eat tasty Italian food inside the main house at a grand table until the wee hours of the morning, when many of us opted to cool off in the pool for night swimming and tipsy Marco Polo! SO much fun. The wine, the conversation, the atmosphere all led up to the wedding day, yesterday, when we were able to witness two of our favorite people tie the knot! Amy looked so beautiful. I am seriously tearing up even thinking about what a special day it was for them, and of course, for all of us there.

I will certainly give more details and be happy to show my thousands of pictures with you all.

many hugs and kisses, Courtney

Lame mass email:

Bon Jour! I am just completing my four day stay in Paris, which of course, was far too short. I am traveling with Lauren, Laurel and Amy Bidwell's sister Autumn, on our way to Italy for Biddy's wedding. It has been such a world-wind of cultural experiences - I promise to show tons of pictures to those of you who want to sit through them.

Paris has had interesting stormy skies, but has stayed warm throughout the days. French people, to my surprise, have been extraordinarily kind and warm -- well, let me refrase -- French men have been kind. The women here, for the most part, are AWFUL! And if I have to see one more pouting girlfriend being cooed to by her French boy, I think I will throw up!

The food is as out rageous as one might imagine. Duck pate, chocolate mousse, creme brule -- I could go on and on. The only way we haven't tubbed out has been the constant walking through these picturesque streets. Anyway - as fantastic as the wine, museums, and monuments have been -- the prices are insane. So I have to sign off.

I'll write more from Italy! Thinking of you all.

love, Courtney


What a whirl wind week end at Rancho Bozo del Norte! The set ups, the break downs, the rehearsals, the cast parties, the posters, all that and more has kept the Canadian Princess and I . . . well busy. The play's run in Mill Valley was well recieved and deserves a rave review or two . . . unfortunately I am a bit too baised to write one. Well things will begin to calm down . . . our darling Genna Rater is flying back to New York City in a couple of days. Pablito Skate and the Pixie of the Purple type were seen together . . . could it be? Only time will tell. Dancing at Lughnasa will open next week in Berkley as director Courtney flies to Tuscany to attend her friends wedding. Pretty cool!

Special Purple Pixie Insert:

My lovelies:

For anyone of you who have been wondering what the heck I have been up to, why I haven't been making any plans in either SF nor LA - here's the deal: I am directing a wonderful, magical production of Brian Friel's "Dancing at Lughnasa" for THE BAY ENSEMBLE, produced by none other than the fabulous Danya Soloman. As the our company's name indicates, the play is rehearsing and performing in the San Francisco Bay Area. The cast is a group of splendid highly trained thespians hailing from UCLA School of Theater, Film and Television, Northwestern and Juliard. The show will open in my home town, Mill Valley August 12th-14th; then we'll do a weekend in the East Bay in Berekeley August 19th-21st; and finally, the show closes out in San Francisco August 25, 26, and 28th. You all, my loving family and friends, must find a way to make up to the Bay and support this grass roots theater production (...and me!)

In the meantime - I do apologize if I have gone MIA. I am working three days a week in LA at the Brite Spot Diner (Sat, Sun, Mon) and flying back and forth to SF for the remainder of the week. (And working every waking hour of the time I am up here!) So know that I love you and miss you and think of you all and how much I wish I was chatting and playing!

many kisses and hugs, Courtney

PS. I WILL CONTACT YOU FURTHER IN REGARDS TO GETTING YOUR ARSES UP HERE TO SEE THE SHOW!!! XOXOXOX




Well the activity has slowed a bit down here at the ranch as you may or may not have noticed. I've got to upgrade from my daughters' discarded hardware and get some more help from the Grantster. The onsite email has been in an ongoing state of cyber-crisis. I sincerely appologize as much as a Suburbian Cowboy can appologize without loos'n face . . . . well here's an extra special email address SuburbianCowboy@yahoo.com how's that? So until we make the upgrades . . . contact me through: RanchoBozo@hotmail.com * or * SuburbianCowboy@yahoo.com . . . Summer is here and adventures will likely raise their ugly little heads in the warmer months. We are expecting to put a few more artists soon Scott Brown, Eddy Mac, Cecil Gaspar/oils, Nate Jone's B Side, and more independent artists . . . speaking of independent arists . . .



The lil Purple Pixie is launching a radio show that explores musical infulences on the super cool independent music scene in LA . . . THE PROFESSIONAL MUSE
This could be real interesting especially if she interviews her good ol' dad (it could happen?). . . .?





Cancun pics and captions are on the way. We have pretty cool pictures and some witty commentary could well follow . . . a cool little video clip of a vaquero with a lasso . . . we'll see . . . . so don't give up on us OK? We'll try to do better OK?


Here I am with the Canadian Princess in another tropical paradise, cool. We are watching what we eat and way off the ELKINs DIET. Cancun, Mexico is an amazing spring break MTV locale very tropical. Check out the swim suit models and fellow loud Americans and Candians. I've been hanging out with the staff and trying to improve my Spanish. To bad the Purple Pixie isn't here to translate. The Sunset Lagoon staff has been so very good to us. Ivan, Jose, Rudi, Sal, Gabrial, and all the others have made our prolonged aniversary even more special. I decided not to detract from visual impact of the photos with my sophmoric attempts at writing witty captions. PLEASE ENJOY THE DEPATURE





This could well be the last RanchoBozo promotional tour to Morro Bay of 2004. This extaravaganza has brought the entire RanchoBozo.com staff (the Grantster and Captain Wayne-O) to that hip enclave of small California costal towns. The skiff to sand bar adventure was a high point to say the least. The new digs for Dr. Dogboy are Fuel Dock de lux (a picture window view of bay and the Sloop jonBee). The Grantster and I are heading for beautiful down town Morro Bay for a famous Kitty breakfast and a visit with Ed of Central Coast Music. The sky is blue and the air is crisp (excellent)! Morro Bay pics and captions #2




Special Purple Pixie Insert:

Sitting here in the Arts Library at UCLA, after a rousing Prueba de Espanol (Spanish quiz) and the entire 9 hours of sleep I got over the last two nights, it occurs to me that I have not provided Captain Wayne-O and his motly crew of cyber-followers with a Pixie Insert in some time. First of all, I never narrated my journey to Espana for y'all. So here goes: Salamanca was perhaps the perfect renaissance city for a young woman to reside in alone for a few weeks. Despite my blonde hair and the copious warnings I received from my female friends who had traveled in Europe, I felt completely safe walking about the winding stone-pathed streets alone. This was a favorite activity of mine; even though I adored my Euro-friends' company, I would often opt to window shop and daydream sola, meditate in Salamanca's gorgeous Catedral Nueva, and sit on the steps of University writing in my travel journal.

When my time studying in Salamanca was up, I anxiously took at 6am train into Madrid to meet my boyfriend-travel buddy JK and begin our ten day tour-de-Spain, riding in style in a Bubble bee yellow Mini Cooper. We left for Toledo, a tiny touristy town about 1.5 hours from Madrid. Toledo was breathtakingly beautiful - the more popular version of Avila; completely surrounded by a medieval stone wall, this picturesque town is located on a hill, overlooking the plains of La Mancha (yes, the ones Don Quixote windmealed about). The streets were windy, one way, and almost too narrow to drive even our Mini upon. We stayed in a sixteenth century mansion that had been converted into a gorgeous, intimiate hotel. For whatever blessed reason, it was extremely cheap to stay there too. (FYI- Spain is not nearly as expensive as other parts of Europe.)

Leaving Toledo, JK and I decided to wind through the central mountains (Los Sierra Madres)to Cordoba, my favorite town in Spain. Cordoba is a fairly large modern city that has retained much of its historical character in the section nearest to the river. We walked hand-in-hand, as if in some two person lucid dream, down the cobble stone steps of the Judaria (used to be the Jewish quarter, back in the day). The buildings were all painted white with red Spanish tiled roofs and bright blue and yellow doors, trimming, and shutters. Red and pink bouganvia climb up the sides of the houses, contrasting with the brightness of the Medeterranian blue sky. Our adventures in Cordoba included drinking Cider with a drunken old Irish man at the one Irish pub in town, entering the mesmerizing Mescquita (Old Mosque), and(literally) being swindeled by gypsies who managed to get 2 euros out of me for a bogus fortune and a whopping 10 euros out of poor Spanish-less John! We concurred the experience was somewhat romantic - at least in retrospect.

Seville, a city every person reading this MUST visit, was our next destination. We found the perfect hostel (again, converted from a very old mansion) right in the center of town. We roamed up and down the streets eating helado (mi culpa!), shopping for an outlet converter to no avail, and stopping now and then for tapas and cerveza. Flamenco dancing and guitar was born in Seville, so naturally, wer decided to check some authentic strumming, singing and dancing out. Late at night (the Spanish do everything LATE, I mean going out at 2am kind of late), we found a tiny bar ironically named "El Mundo." Inside was like a gypsy grotto complete with over-dripped blood red candles, a giant gesso mural of Satrys and naked women frockling, an expert flamenco guitarist, a gorgeous black haired young singer belting out painful improvized lyrics while flitting her wild eyes about the room keeping track of the twenty dark locals pounding their heartbeats into the floor through the soles of their shoes, and a drunken female bartender who continually took shots of wiskey and charged decreasing fees for drinks throughout the night. When the official show was over, no one left. The singer and guitarist stepped off the stage and drank, then almost immediately began to play and sing casually in a cirle with everyone in the audience. We were completely mesmerized.

I will have to save the final few stops for later...right now I must go teach impressionable young pre-med students how to write. Don't lead them to this website where they can see first hand what a grammatical hypocrit I am!

muchos besos, Courtney - the lil purple pixie
It's a perfect day on 101. I'm posting from the Steaming Bean Coffee Company a charming cyber cafe in my favorite retirement fantasy port Pismo Beach, CA. The bartista was very helpful.

Sorry I'll be out of town Nate. Nate's playing at the Sweetwater Open Mic tonight 9/20 (Open Mic every Monday night at the World Famous Sweetwater, Mill Valley). Nate Jones (cool name) is an amazing young singer/songwriter from San Francisco who will hopefully hand off a CD to the Grantster for a possible "Single on the Ranch". This could be a great coup for RanchoBozo.com and maybe even Nate. I am off to Santa Barbara to help "the wise one" on the first aniversery of my mom's death. Thinking of you mom.

The good Commander Cody and an awe struck and not worthy Captain Wayne-O sat together at the end of the bar at 19 Broadway ~ Fairfax, CA. It was great catching up on the east coast tales of the Ozone and tilting a couple with my rock star hero of all times. Too cool. Sometimes I wonder who writes this stuff. The East Coast Airmen were on the stick. Bobby Black was the most recent guitarist inducted into the Steel Peddle Hall of Fame. Everyone was experimenting with the effects of too much fun!

Oh yes! Return visitors will notice the
[EASYNAV-BAR]&copy
on the top and bottom of the most frequented pages. I used what little I know about copy and paste and put them up recently. Now you just click the bar and zip all over the cyber ranch, no prob. I wanted clever little icon picture buttons that glowed in the dark while rotating and made cool slurping noises and fade away or not fade away. Well as my father (the wise one) sez: "It's good to want son".

A Red Letter Day for the Captain. A fine doctor performed a delicate operation on my 7th reaching pinky and the Grantster put Wendy Lapides' stuff up. Two amazing things in one day. I hope she (the good doctor) uses her RanchoBozo.com card and sees this. Capt. Wayne-O sez: "THANKS DOC" "THANKS GRANTSTER"

Well now this is where it's at; I managed to sort of some what slip gracefully into advancing middle age with only this narcissistic midlife desperate retro-grab at youth called RanchoBozo.com for a crisis. I'm 53 years old and OK with that, I guess.

The Canadian Princess and the Suburbian
Cowboy drove far out to the country to far out West Marin. Rancho Nacasio hosted a killer band from the seventies 'Asleep at the Wheel' for a rock'n Texan swing'n good time for all. The dad burn best BBQ chicken I ever ate. For more pics Thank's Wen.
Sadly Genna Wenna will be packing duffles for NYC. We'll be empty in the nest department soon, que lastima.

The darling Purple Pixie is habla'n Spanish in sunny Spain. I hope to get another Pixie insert on the Iberia Extravaganza and maybe even a picture or two. Well we have no pictures yet but we do have another . . .


Special Purple Pixie Insert:

Is this annoying? I have always been kind of annoyed by mass emails (particularly badly spelled ones)but here I am filling your emailboxes with a braggart's ramblings. O well - here I go again:


Hola Hola mis amigos de California!


I have safely arrived in Salamanca, Spain, which is the most bustling, alive, and classic University town in Spain. (So I am told by the locals!) The center of the town, La Plaza Mayor, was built in the Baroque era, and is just simply magnificent. The interior is lined with tables and chairs that are filled with people dining, wining and laughing from about 11am-1pm and then again after 8pm-3am! I have yet to get used to the incredible life-loving schedule of these gregarious Spaniards.

The lovely old couple I am staying with (who are almost 70 years old), for example, are up chatting and singing and eating until about 2am every night. Salamanca is more wild than WILD-On E could ever hope it to be. The discotecas start getting filled up betwee 1-2am, and are open until 8 in the morning! No joke. I felt like a loser when I staggered home at 4am the other night, leaving the completely packed disco for my bed.


So far most of the people I have met in my Spanish classes have been Dutch, German, Swiss, and Polish. I have no idea how this has happened, but I managed to befriend a group of Dutch and German chicks who speak less Spanish than I do and have found myself having to be their pathetic translator. (Pablo and Dad - I am sure you know what trouble these girls are in, considering my lack of Spanish skills!) Salamanca as so many students, from all over, that it is safe all night...thank god.

Hmmm...well all is well here. I am being kicked off the computer. My love and muchos besos to you all!



Courtney
Blogging on a family vacation? We're back here in Mill Valley safe and sound. My father's brainstorm was a raging success! A family vacation can really be funny and fun! The experience was far more personal than public. The Maui sunsets were inspiring. My daughters look like swim suit models.
Wendy and I were fearlessly by eachother's side. The cousins party well together. Uncle Bill has served us well as Rec. Director. My sister mothered us all.
Grandpa E aka 'the wise one' has been one kind and gracious host. In short: We're all here in Maui. Good bys are never that easy.

I'm posting from the Cyber Bean in Kihei a cool (AC)cyber cafe. Our energetic bartista/owner Sean made it all possible from many directions at the same time. Here I am with my ausome nephew posting when we should be splashing in the warm Pacific. In the never ending quest for the funny I discovered Organic Laughter a local improve troupe my first night here. They played the campy funk'n cool Italian Eatery/Bar (very excellent blackened fish) the Bada Boom of Kihei, HI.
I need time to reflect on the hilarity and fully digest the spontinaity of the evening . . . more on this later . . . The Pixie of the Purple kind arrives in this afternoon. The wise one and I will greet her. The warm Pacific beats the cold Pacific of home (duh?). Gosh it's great to have our whole family together in paradise. It was humbling to see the wise one smile lovingly at all his progeny.


Special Purple Pixie Insert:


Here I am, the Queen of Anti-Group-Emails, writing to y'all at once.

Aloha! So what could possibly top a weekend of "research" (and sitting idly by my aunt's pool with too many strawberry margaritas) in beautiful Santa Barbara during Fiesta time? The tropical island of Maui, of course! After a peaceful and smooth 5 hour flight over the Pacific, I landed safely in Hawaii, to be greeted by my grandfather, dad, and cousin Brian, all clad in Hawaiian print clothing. My Grandpa's turquoise T-shirt appropriately read: "Money isn't Everything - But it keeps the kids in touch."

Our condo is located on a quiet strip of Maui's coastline. Out my window lie acres of perfectly puttable manicured lawns stretching around the pool and down to the beach. Yes, yes, palm trees and hibiscus are a plenty, and as my sister Genna noticed yesterday, the air smells like a mixture of plumeria, pineapple, and Banana boat suntan oil. Last night my mother buzzed around our condo like a little Maui honey-bee preparing copious amounts health food appetizers. As always, my parents are "dieting" by eating all the right things, but consuming them in excessive amounts. What would vacation be without BBQ, shrimp cocktail, and my little (and may I add - underage!) sister's expert Piña Coladas?

Today - I'm beaching it all day with Genna and Brian. Tomorrow, Grandpa is taking all ten of us to a "real authentic" Luau - and we have reserved seats to catch all the Hula action up close! On Friday we are touring the rain forest on hanging cables - I'll have to fill you guys in on what this adventure is called later (I wanna call it splunking but I have a feeling that's not it). Saturday all of the kids (myself, naturally, included) are going to snorkel in Malokai. Sweet.

Anyway I miss you all and can't wait to hear about all of your adventures when I return, or via email. Tonight I will sip a guava martini and think of each of you.

Coconut dreams and Macadamia Nut wishes,

Courtney
~~~ M O R R O ~ B A Y ~~~
Well I woke up this morning after a restless night aboard the Sloop jonBee.

Biked to Two Dogs Cyber


Cafe to have a legendary tall boy of jitter juice named after a dog and up date [RAMBLINGS]. The front page of RanchoBozo.com (in italics) refers to a "community connection with some other Californian Community" could it be Morro Bay? Sure it could be?



Morro Bay is a West Coast former fishing village that could have been Popeye's hometown. Such a cool relaxed place were all pretensions take a back seat to the kicked back jaw slacked at Happy Jacks.
I spent time with my best friend (Captain of the jonBee)

and discussed the Morro Bay connection and his involvement if any with this site.

I hope I get a chance to talk to Ed the owner of Central Coast Music on my next visit to Morro Bay. One of the Greatest little full service music store in the entire west coast.
I had my '38 Dobro restrung and tweeked to perfection last fall. Central Coast lived up to it's "friendliest music store in the universe" slogan!

The dog boy and I took lots of pictures yesterday and conjured up some bozo like presentation of possibilities. Inspired by my talented wife's powerful journalistic style I will attempt such a feature based on this RanchoBozo.com promotional tour.

Thank you for the panoramic tour Samantha. I hope to see your niece's coloring of the Suburbian Cowboy and his comet. Samantha teaches Kundalini Yoga classes in Cayucus, California. More about this later . . . . We definately have a WINNER! Thank you Ella! You did a super fabulous job coloring!
THERE ARE MORE CHANCES TO WIN SO KEEP COLORING the SUBURBIAN COWBOY!!!
Up over the hill - around the bend and you're in Larkspur home of the Silver Peso Bar and the Larkspur Theater. I saundered into the theater only to hear three brilliant singer/picker/songwriters called Boarderline playing a short set of sizzlin' hot original songs without a sleeper in the bunch. My first thought was that as much as I would want them to post I doubted that the Ranch was worthy. I talked to Glenn a real straight shooter with a heart of gold and talent so thick it could hold up a spoon, anyway. . . . next day on a bike n hike I paid Bob a visit, (remember Bob at Two Neat) well Bob had Borderline's CD. Glenn said he'd give me one . . . call me crazy, you won't be the first . . . I could buy one from Bob that helps Bob and the same time helps Glenn, Jesse, and Mike of Borderline. Now that's a real bar-none bargain! I love that CD every tune's a gem that shines distinctly on it's own-too cool.

I just had great fun at the Larkspur Theater more fun than I've had in years. Erma and Daniel of Murphy Productions provided those hundred twenty plus lucky folks an evening of stirring entertainment. It was a time for comedy, dance, music, and original songs.

Deuce Chanteuse a folksy pop trio brought forth the evenings entertainment. The harmonies of Allison and Alexandria were heavenly and richly complimented Lee Hillis's melliferous lead vocals. The hip trio's interpretation of covers was brilliant. However(this is the first time I've used 'however' on this site, well second.) (Go ahead try and find another one) the song that impressed me the most was a very cosmic cool original. I think I can pull some strings (an E maybe a G)and get it posted on the Ranch.

Now how about that comedian. I learned something from my daughter who just completed her Ph.D at UCLA (isn't that suprising a simple suburbian cowboy like me could have a kid). This is what I learned; there are no actresses only actors. So I call females in comedy comedians. That saves me from looking up that other word in the DICTIONARY.

This was Comedy that spoke to me directly. Resonating with a far out power chord! Finally a comedian who understands what's really important in this complicated world and that is, coping as an aging Hipster. That's right in this post modern wacky oh so didgital highly materialized and bio-morphed and serialized world of the Gangsters, MEsters, Xters, and neXters it's difficult finish sentences. Stay with me here - Grace's shtick was slick. . . Grace White is a very funny person for sure . . . spontaneous . . witty and smart. I get to meet these great comedians and really talk to them but Grace is just as talented and so much better looking than any of those I met at D'Angelo's. I must be the luckiest suburbian cowboy I know. I wish the Canadian Princess had been there. I'm sure she would have had a super cool time. Fortunately the Grantster and some heavy hitters from the Browning Street Extension Collabrative rounded out the Rancho Bozo del Norte contingency.

The night just got better. . . I felt like I opened a door and I was transported to a club back in time . . . like if Elvis Costello and the Velvet Underground got together and came up with some brand new smokey tight tunes with smart hooks and and even smarter lyrics. These Guru Daddies write and play cool original songs and do them well. They are truly songs. Bob Dylan (I think) said something like this 'a song can walk on it's own'. Guru Daddies' songs hang in there by themselves (I said that); distinct, catchy, punchy, and most important tell a story.

I'm excited to say that soon you'll be able to hear a sample of Guru Daddies' up and coming CD right here on the Ranch!

I had such a good time. . . the Guru Daddies even let me live out my dream of working like a roady. I liked lifting the speakers into the back of Erma's station wagon the best. We will be sharing pictures soon, right?


If you were there you write the review. That's right email a review to this site. Thanks


Well it was the July 4th and we celebrated the 228th birthday party of the good ol' USA. The Marin County Fair is always almost worth the price of admission (but it is the Fair price)! Guess who was stamping hands at the main gate? (hint:she just got back from London/Paris . . . to stamp hands?) . . .

Our Grantster is back covering more ground in less time and having more fun finding the Lost Coast. Just how do you lose a coast in the first place? The man called Shane and the Grantster hydrated, sun-baked, and self-propelled the last hundred miles in less than a day! Aspire to perspire with a duct-taped tire!

I posted from the computer room in the loby of the Beverly Hills Hotel while celebrating our twentyfifth wedding anniversary This place is the home of amazing service especially Oliver the bell hop, Brian at the spa, David at the desk, Steven at the Polo Lounge, Denise in the Fountain, and all the other considerate sincere friendly service first people at the hotel made us feel like honored guests. Wendy and I believe in genuine service (especially to the children of San Francisco) and are delighted to find everyone in the service staff of this famous hotel does too. It was a most enjoyable stay!

Though I was dragging my heels, I found I was kicking my heels to be in a five star hotel with the woman I love), this one is a model hotel-for sure. Everybody here thinks everybody's someone famous. I guess everybody is. We are attending our daughter's good friends graduations from UCLA. Much success to the graduates Matt and Pablo! Wendy bring on the next twenty five!

Well RanchoBozo.comphiles and I know there's at least three or four of you out there: a milestone in the lives of the Suburbian Cowboy and the Canadian Princess was reached. They have weathered storms, basked in the sun, loved the kids, and remained quite happily married for twenty five years, June 16th 2004. What's your secret? Well it's all in a song "I got married to my best friend." Having experienced the free love era I noticed that in the long run we are more considerate of our friends than we are of our lovers. It was work ("WORK!" Maynard G. Krebbs) a real labador of love. There is a popular misconception of Marin County and rampant divorce infact there are many many lifers like us in Mill Valley.

Well June 14th marked the departure of the Grantster of Cyberspace and a man called Shane's on an excellent mountain bike adventure, a two week tour duo farce of hard riding Californian Coast hugging intrigue. They did invite this older bikester. I did consider but it conflicted with my silver wedding aniversery. I would expect a full cyber cycle report of this healthy arobic adventure: bright guys wide eyed on bikes! With the Grantster gone I'm on my own - site wise.

Guess who's back from London and Paris? June 14, 2004

As fate would have it 5/04 I found myself in the only world class city in this whole wide world New York. I stood amazed as my little baby girl hailed a cab with just one hand and navigated subterainianly with the greatest of ease. Look straight ahead dad, don't engage those total strangers, drink that Poland Spring and eat a panini . . . HAIL A CAB It's almost more than an average suburbian, midnight (I'm walk'n here), or electric cowboy could deal with. It was my first time in the big city I was with my good ol' dad and darling daughter. Here's a great big picture of Genna and me in New York City (Union Square). I was dazed by it all. This little update took place right out of my room. Genna took off to London and then Paris. May be a pic or two will follow.

Caught the amtrack at Penn Station with a fraction of second to spare . . . rolled in to Washington Union . . . hey a Californian boy's an American too and should capitalize on it especially while in Rome after all what's a meta-phore? . . . before I miss I mean loose my train of thought.

The Open Studio event that took place May 8th and 9th was an ARTISTIC COOP and wildly successful. Our good Webmaster was there digital camera well in hand; a picture or two will likely follow. If you missed it (since you could have been anywhere on the planet) you probably didn't meet the Canadian Princess in person, but you can still a see a sample of her award winning photography through amazin' technology!


Way back in April:



HAPPY EARTH DAY April 22, 2004 Remember every day's Earth day on this planet . . .

April 17th, 2004 – I headed back to 19 Broadway in Fairfax, CA to see Commander Cody and His Lost Planet Airmen. last night they reunited in honor of Lance Dickerson for an incredible show. Both shows were reminders that getting older can be getting better. Commander was able to flawlessly become a gracious sideman. He always delivers the goods! Billy C what a power house of Rockabilly spunk! Thanks George for spending that extra time with Commander enthusiasts, like me. Rock on, Commander! Thanks Billy C for the link to the ranch and the excellent show!

April 23, 2004 Things are buzzing especially for the Canadian Princess we had a photographer over from the Mill Valley Herald take pics of three beautiful blondes with brains and buckets of artistic talent. It all took place in the back forty (square yards)of Rancho Bozo del Norte. Open studio and B day celebrations. Wish you were here.

April 24 Still Buzzin' around the ranch, According to rumors the Canadian Princess' best friend introduced her at Cold Springs Tavern to the Suburbian Cowboy twenty eight years ago on her birthday . The rest is recorded history. Our older daughter the Lil' Purple Pixie is here now helping with the festivities.

I love 'em all more everyday.




APRIL 25, 2004 - Well here I am attending to the needs of Women Who Lunch. We are looking at excellent weather today at Rancho Bozo del Norte 80+ % sunny and bright. BBQ with all the fix'ns includin' cowboy brie'. I'm the only guy around - so what else is new? I want the Princess of the North Country to have the best Birthday ever! Pics maybe maybe not?

April 26 Just like a heat wave . . . recovered and waiting for jpegs from the party

April 27 The Mill Valley Herald tells all 'three blondes bonded by the arts . . .' read all about it! It seemed even hotter today. Webmaster Grant and I (I watched) put up the FIRE pit, a discussion page. I'm going there now and try to come up with a topic.

May on the Way . . . I got a little device that may add a little spice to the site we'll see. Those great big pictures that need to be compressed or something were taken with my little device (Aiptek DV3100+) as was the Tamobile video. Pretty cool for a hundred bucks. This was an unpaid endorsement and I could use the money.

MAY MAY MAY on the way in MAY well May's long gone and some of these things are still in the works. I wouldn't expect anything too fancy in the next two weeks so same old tune in June . . . Grantster is away, Graduation activities in LA (Pablito Skate and Fratt Matt), and our big twenty five.

Well here is a brief preview of things that will be going on with this site: * a web site shake down * the cyber back pack is . . . * a mystry of the eighties about a mystry of the ages . . . The true story of the San Francisco Paper Pyramid Company . . . SFPPCO went down . . . Was Reagan to blame? RanchoBozo will roll back the prices and defy inflation (How is this possible? Log back often and find out) * cookin' smart at RB del Norte or some (kinds of ) carbs are your friends no wait I've got it some thing catchy how 'bout the ELKINs Diet?



[RanchoBozo] [InTown] [SONGS] [FIREpit] [BACKpack] [COOL LINKS] [ELKINsDIET][science]