Rancho Bozo Blatant Plugs &
frontpage clutter
---
Grace White is a very funny lady, a cool mom and a loving grandma. Grace the old hippie chick helped a whole bunch of women kick comedy butt. I've seen Grace perform many times. She's my friend. Grace has made you laugh out loud and discover you're laughing at yourself. Grace did a great job kicking at lung cancer . . . in November 2007 she was given three months to live she kept kicking till December 2009.

Patrick Campbell is a bassist of the stars and a friend of Grace's for thirty five years. We drove up to Colfax and found Grace in great spirits and form. She was with a specialist at UCSF and used advanced hippy mind transcending body techniques to control excruciating pain. Grace is ausome!



YOU NEED GRACE WHITE'S HELP

---



WARMER PLANET
COOLER WHEELS>



---
New Art from New York City * GennaraTor.com
GennaraTor presents Video Art on YouTube!



READ the Legend of Charlie Deal
by Wendy Elkin




Meet some great people at
Goodman Building Supply
just click HERE!


---
COMRADES CELEBRATE WITH HEART OF RUSSIAN GYPSY! LISTEN TO THE BIG ROCK BALALAIKAS RINGING OUT . . . (click the pic)

Not only does it peel, slice and dice, it also repels mosquitoes.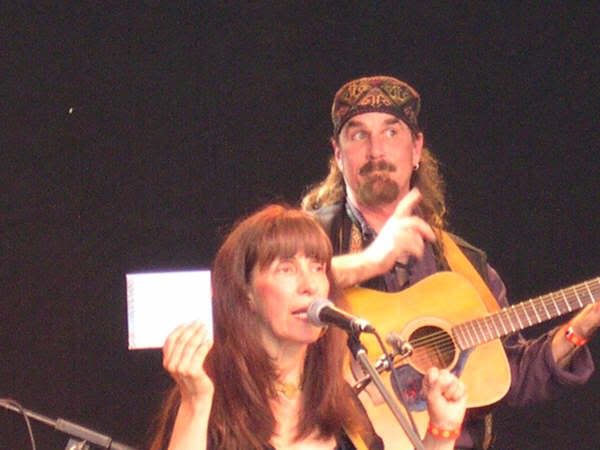 But wait! There's more!

Through the miracle of modern digital editing, this unique CD by Big Rock Balalaikas also prevents unwanted teenage pregnancies and automatically neuters small furry animals.


---
<= vintage RanchoBozo.com . . . [Capt. Wayne-O]
[SONGS]
[FIREpit2]
[RAMBLINGS]
[COOL LINKS]
[CY-BACKpack]
[ELKINs DIET] [science]
[Rancho Bozo del Norte]
---
Here's an original Wayne Elkin song steeped in traditional oceanic hippy love . . . I really do know where your heartstrings lie babe . . . wanna back rub?
NAME RESTORATION NEWS ~ Nick Hoffman is Nick Hoffman is ausome; a self proclaimed Santa Barbara guitar dog. "I don't know who said that but I never wanted to bring God into this argument. I work like a dog" Nick. Listen to Nick Hoffman's original songs with Forbidden Blues and see the revolutionary Hoffman Guitars exclusively on RanchoBozo.com!!! Now the confusion is over.




This page is dedicated to all those RanchoBozo.com has attempted to promote over the past thirty eight months.

This could be fun or at least tedious. How about a place to share your song unsung songwriters? How about a place to share real live memories of the Rancho Bozo of long ago?

A RANCHO BOZO RAVE REVIEW on SF Tribe thanks Mary Ellen!

PLAY Suburbian Cowboy


. . .
You write the review - review! We want to keep this free as long as greed permits us! Find out what we really did at the BOZ in '74! If you find out please tell us. I'm piecing together evidence that Rancho Bozo did indeed exist. A front page story (last year) of the Santa Barbara News(up)Press (thanks Proctor and Ward) alluded to the existence of a small cottage on Coast Village Road. Could this have been the site of the original Rancho Bozo? Further research is indicated. Dig?



The idea behind an extra front page is simple right now I'm waiting to process a nice little page for "Hit Singles" posted on the RANCH for Eddy Mac, Will Bergan, Scott Brown, and others. That kind of stuff can be announced right here on BLATANT PLUGS.


What did you do in Kathmandu? I would like to invite any one who traveled the world during the crazy free love era to drop me an jpeg and an email. The Road to Kathmandu and the [CYBER BACKpack]will be emptied. Look for the cyber back pack arriving soon . . . . . It could be the hook needed to more effectively launch this site . . . How 'bout the Cyberbian Cowboy in Asia? There are many stories to share - Where were you in '72? or there abouts . . . share your story, pics, and scan your scrap book . . . It was like a journey back in time . . . almost . . . there is a story here I can feel it . . . .

hosted by Captain Wayne-O... to find out more click on [RAMBLINGS] for a bloggish personal daily up date until the ranch is in truely up and running . . . yeah it's me babe [SuburbianCowboy@RanchoBozo.com] is now the best way to send a message to this site. . .lost for a word; do what Captain Wayne-O duz; find one in a dictionary!


Cecil Gaspar was an original Rancho Bozo regular or perhaps a regular Rancho Bozo original. Always a rare breed . . . a talented jack of all trades from race car driver to recording specialist to restaurateur and that's just the r's. Recently incarnated as a fine artist: a role that best exploits his many talents. We have shared many adventures over the years. Cecil is a loyal friend that will soon be featured on RanchoBozo.com. He's the Cecil of Cecil's Stairs
Even Newer Section: The [ELKIN's DIET] Oh great another diet just when you were feeling hungry . . . How about some [COOL LINKS] ? Hot links are definately off the diet.

'PETER LEE' BROWNLEE is a painter and a Bolinas legend. The Grantster and I staged a community reach out to Bolinas, California and who did we find shaking our hand but Peter Lee. Mr. Brownlee's paintings span four generations . . . . Peter's images help define an era. Peter Lee sez: Kill flies not people" RanchoBozo.com will be proud to exhibit the great Peter Lee to the world. When you're with Peter you know you're in the presence of shockingly individualistic artist. Peter lives his art daily with out regret.
Wendy Elkin: Fine Art Photography

Director/Producer

CANADIAN PRINCESS: the COCKTAIL



Scale ingredients to servings
1 oz vodka
1 oz peach schnapps
1 oz melon liqueur
3 oz cranberry juice



Pour the vodka, peach schnapps, melon liqueur
and cranberry juice into a cocktail shaker half-filled
with ice cubes. Shake well and strain into a large
cocktail glass. Add a speared cherry, and serve.
Serve in: Cocktail Glass



.

oh my . . . when I get to 'G' or something this BLATANT PLUG thing could turn in to another section . . . .

$$$ FORGET IT TRUST FUNDSTERS and WORLD WIDE GREEDSTERS
NO AMOUNT OF MONEY CAN BUY
A BLATANT PLUG on RanchoBozo.com !$!$!$


---
DEVON SHANE'S CD RELEASE PARTY

Nov. 30th SWEETWATER was a smashing success! SRO
Audience blown away! Devon is Mill Valley's own young DIVA!



GET an ERUPTION

cd that is
one dozen Devon Shane songs . . .CHECK OUT DevonShane.com


---
A sterling performance at her CD release party
SRO at the Larkspur Cafe Theater . . . Victoria George . . . strong beautiful songs.


---
BLATANT PLUG 'A': When is an apartment a apartment? When it's Apartment A. If you find yourself in
Mill Valley be sure to meet Julia the proprietor of the zany cool gallery/store located in beautiful mid town ~ 10 Locust St. ~ Mill Valley ~ Captain Wayne-O sez "What a great store! (not the apartment upstairs)"

Captain Wayne-O, Charlie DealThe October 12th interveiw with our own Captain Wayne-O could cause the RanchoBozation of Europe or not (probably not). Thank you
Marion and Christian for the enjoyable time. I understand your research could lead to a book quite tentatively titled "Hippy Trails 2 U" or something. I am looking forward to emails and jpegs from both of you. It was cosmic and then some! Julia our friends Marion and Christian paraded up Miller Avenue in Mill Valley CA proudly holding Charlie's patented guitars (each an artistic statement)
in tow safely transported the legendary toilet seat guitar collection 1/2 a block to Charlie's mid town loft and guitar workshop. One tiny event in the long and fascinating Legend of Charlie Deal. The graciously charming Julia is hosting the fine work of featured local artists! Feel the spirit of a living breathing store . . . don't tell me is that another Psychic Sunday? . . . . was that a spell binding book binding workshop? did anyone say "B I N G O ?" a store that's much much more apartment A . . . . .


BE SOMEONE WHO CAN SAY:

"I BOUGHT THAT AT APARTMENT A"
. . .remember * COOL GOOD CUSTOMERS BUY COOL GIFTS
FOR THEIR FRIENDS AND OTHER FAVORITE HUMANS AT APARTMENT A !!!
What a BASH for Charlie! Apartment A is on the map for sure.
Oh Hixters even Dan dropped by read all about it . It happened In Town! Be sure to buy Dan's new CD Selected Shorts it's excellent on so many levels!

NOVATUNE! ! ! Christian has an amazing music site that pays fairly to the artist and passes the savings to the consumer. Excellent! Europe pays dearly for CDs compared to the US, must be kinda like gasoline? It's called Novatune!

Alack and Alas all things must pass . . . apartment A closed it's doors . . . "never" to open again July 24, 2007 . . . I'll never forget Julia's unbridled enthusiasm and the Mill Valley retail experience known as apartment A. RanchoBozo wishes you the very best.


BLATANT PLUG 'B': Grace White I LAUGH OUT LOUD WITH GRACE WHITE ~ Grace who while performing at the PURPLE ONION of San Francisco introduced me to more comedians! Only Grace could follow the outragous comedy of a Presidential Debate. I did laugh my socks off.

What will Grace be up to this Summer'05? How 'bout butt kick'n women who crack you up? Grace (one of my favorite old hippy chicks) Thursday night at the Throck . . . How 'bout that? Grace in Mill Valley, most excellent! GRACE WHITE A VERY FUNNY LADY OF COURSE (for sure)



Grace in Mill Valley? Well Yeah Grace White ripped it up 142 Throckmorton. Grace kept it paced at non stop raucous . . . Mill Valley aging hippies hmmmm?
BLATANT PLUG 'C': on a strange dimensional plane in cyberspace resides Chris Herrod a STARK RAVING BEAUTIFUL.com person with a STARK RAVING BEAUTIFUL web site.



NAME RESTORATION NEWS ~ Nick Hoffman is Nick Hoffman is ausome; a self proclaimed Santa Barbara guitar dog. "I don't know who said that but I never wanted to bring God into this argument. I work like a dog" Nick. Listen to Nick Hoffman's original songs with Forbidden Blues and see the revolutionary Hoffman Guitars exclusively on RanchoBozo.com!!! Now the confusion is over.



BLATANT PLUG 'D' & 'E' : WATCH for Singer/Songwiter * Devon Shane

Out of your past into your future * * * Marin County's own NED ENDLESS right hear NED's single right here on RanchoBozo.com!


* * * 9/11/04 ~ Dan Hicks and company out did themselves once again and won the hearts of his of hometown America! Mission accomplished! (more about this later)[In Town]


[RanchoBozo]
[SONGS]
[FIREpit2]
[RAMBLINGS]
[COOL LINKS]
[CY-BACKpack]
[ELKINs DIET]
science