We will always remember
Peter Brownlee of Bolinas, CA
while making "Painting Bolinas" the movie


In an oxidized Buick Century station wagon Peter Lee does the slow cruz on the Bolinas California main drag. Three doors down from Smiley's next to the only gas station in town past piles of priceless paintings . . . . The story of this artist Peter Brownlee is long, eventful, and well worth the telling . . . Peter paints because he has to and loves to . . . Peter says it's cookies and milk and they're both great . . . you paint and it's cookies they taste great but you gotta wash it down with milk . . . . milk is the work and hussle that supports the painting and Peter says that tastes great too . . . . you gotta have both . . . . I love milk and cookies . . . . Peter has lived and continues to live a colorful life as vibrant as his paintings. Rancho Bozo will present an on going multimedia sketch of one of the great hippsters of our time - 88 years young 'Peter Lee' Brownlee. . . .




Peter is still able to produce some of his finest
work while balancing cans and bottles on his head.






Wendy Elkin and Linas Philips are shooting a feature length documentary on the life of an American Artist, Peter "Lee" Brownlee. I popped in for a brief visit with my little camera . . . Peter tells of braving six years in World War II as a Merchant Marine, first at war and at first unarmed. He tells of his amazing experiences on Broadway and the colorful characters he befriended and avioded in New York City. He was a factory owner, an inventor, and a cowboy. He knew heads of state and hit men. He tells the macabre story of the black candle. He swears he's telling the truth but says you're a damn fool to believe a word he says. I am lucky to know a national treasure like Peter Lee Brownlee. He's worth millions and he's not worth a dime. Peter puts in two days of work every day painting and the hussle of keeping his empire alive. No matter what the hour of the day Peter has time for me . . .




There is a vital realism to everything Peter does some times Peter will
recycle his canvas. This painting could wind up a portrait or a still life.
Every visit with Peter is an adventure with art.
. . .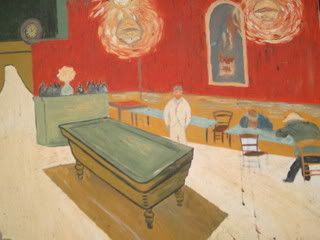 Peter demostrates the classical method of painting copies of classic paintings. You surely recall the artist who originally painted these boats? The multi-media presentation is still in the works. A fact finding mission in Bolinas is also in the works.





This is a sample of a Peter Lee Brownlee card . . . the beautiful little
hamlet at the base of Mount Tamalpias known to all as Mill Valley . . . .



. . .



Peter is always experimenting with materials in this
alphabet wheel a harmless ruberlike acrylic is covering
magnetic material to produce a whimsical educational toy.
Every time I visit Peter he's working hard on amazing art.



A Painting of Bolinas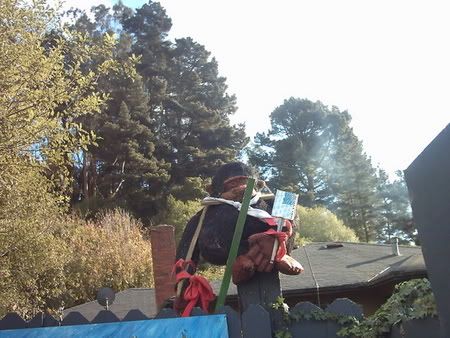 Ah the sentry monkey keeping out evil spirits.




The Grantster sits in front of Peter's art empire.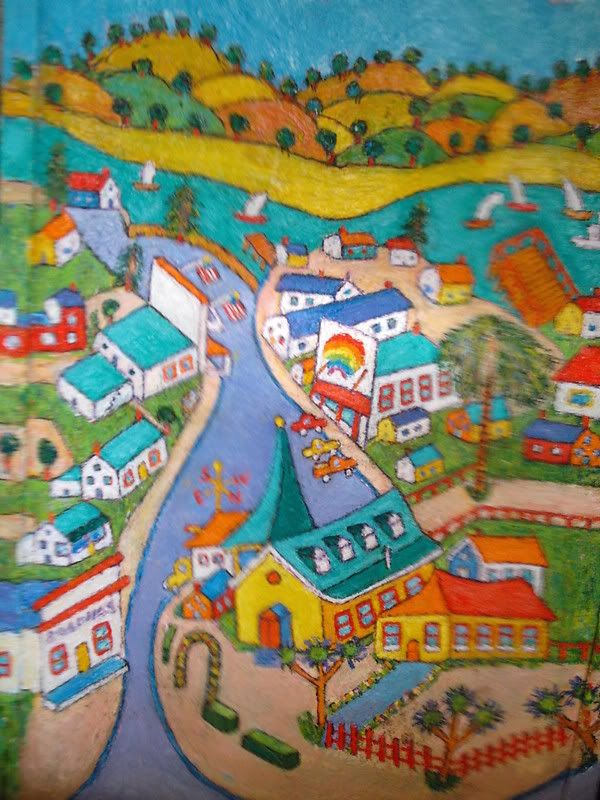 [RanchoBozo]
[SONGS]
[FIREpit]
[ramblings]
[COOL LINKS]
[BACKpack]
[ELKINsDIET]

Becoming the best of friends . . .




Visit "PaintingBolinas.com" the movie Painting Bolinas


PETER "LEE" BROWNLEE: the movie


Produced and Directed by Wendy Elkin &copy 2010

out take
Painting Bolinas the website