The Original Rancho Bozo ~ Montecito, California
1974 to 1981
[RanchoBozo]
[SONGS]
[FIREpit]
[ramblings]
[InTown]
[COOL LINKS]
[ELKINsDIET]
Way back in 1952 when Coast Village Road was a strip of Highway 1 my mom had her heart set on owning a home. It was important that it be on a bus line for transportation in case my father was away on a secret mission for the newly formed United States Air Force. This tiny cottage all of 750 square feet was purchased for eight thousand four hundred dollars (about what two new delux Oldsmobile convertables of the day cost). The one thousand five hundred dollar down payment they were able to save was all the money in the world for my parents. My family in harder times (when my father couldn't be with us) made this their home. In fact at times I was or felt as if I was the poorest living boy in Montecito. We didn't even have a car. This humble abode was in time destined to become Rancho Bozo. Martha Elkin, my mother petting Tyrone the wonder dog 1974.






The name Rancho Bozo has unknown origins
. . . however, it became the name of
this little house through the biting musings of
Peter Dominguez. He was making fun of me one day
"that place of yours is a regular rancho bozo, menso" he jibed.
I replied "yeah Pete that's it, it's Rancho Bozo".
This is 1974 the first year of Rancho Bozo. The Rancho Bozo-mobile is parked in front of the driveway. Under the parking enclosure is a '71 Datsun pick up with camper the 'OH-DAT-SUN truck'. The young Dogboy and I took off to New Orleans in that truck in '75. Note the bus stop left of the crosswalk. Behind the chain-linked fence lurched Turk Hesslund's Nursery annex where plants for rich and famous took root. Rancho Bozo's long narrow lot ran up hill parallel to Coast Village Road. THIRTY THREE YEARS LATER


This view is from the highest and northern most point of Rancho Bozo looking south toward Summerland, Ventura and LA. Back in 1974 the Montecito Inn (the large red tiled building on the other side of the street) was a not so glorified flop house. The liquor store accross the street at that time was the "Bottle Shop". We will always remember Matt who always tried to forget us.
What ranch of mythic proportions could survive without the loyal protection and sage advice of a wonder dog? Tyrone was not always a wonder dog he sort of grew into the job. This is a rare photo of Tyrone the wonder pup looking pretty cute in the Rancho Bozo front yard.


Steve and Dr. Kemm are Suburbian Gothic in the front of Rancho Bozo . . . both are great guys both saxophone players . . .
Peter Dominguez and Lieutenant Wayne-O keep the Cheech and Chong energy in the Rancho Bozo kitchen fully charged and ready deal with all you Pendeckos. Dave left an hour ago.

That bird's still roosting in the kitchen for a short time. I accepted a gift from a stranger in the form of a little black bantam rooster with a powerful wake up call. I named the diminuitive domestic fowl Rufus. I don't know what happened to Rufus except one day Rufus just flew coup. He must have been looking for chicks.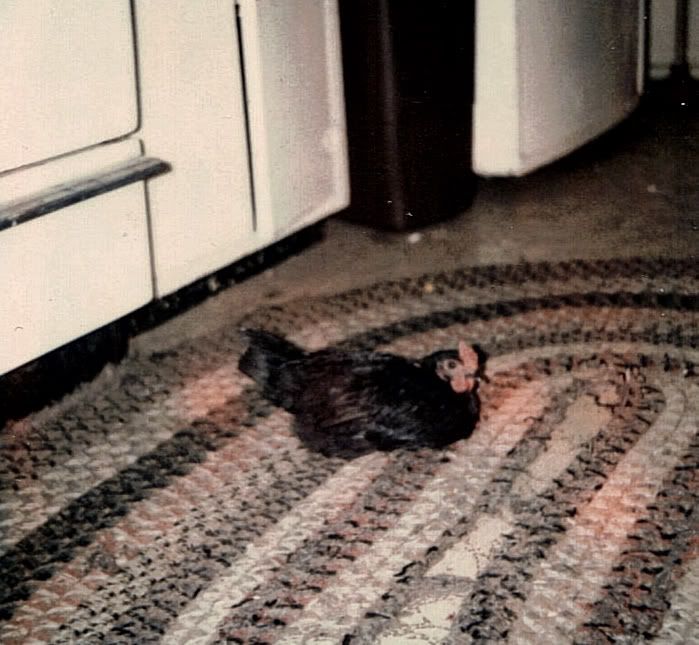 The Budda Garden was an environmental art piece by Peter Dominguez a place to wind down and breathe deeply to get another idea visit Rancho Bozo dot calm. I think a little meditation can round out your day.


Look carefully. You can see the left front fender of the '61 bug parked under the parking stucture. That's no ordinary vw. That's the legendary Bozomobile. You are standing on the north side of the FIRE pit looking south at the Tee Pee. Are you still looking carefully? Who's resting in the shade? Who's in the Tee Pee? Better get a virtual DNA reading on the follicle of that there hair. Name four things in this picture that start with the letter ' T ' then enter the COLORING CONTEST to win great prizes!

The Tee Pee was reminder that environmental art didn't have to be pretty in fact some times with the help of a coconut head it can be down't right ugly . . . the tee pee was made from a recycled tarp that served as the canopy of my mom and dad's 1961 Shasta camping trailer.
<






If your beers are real make sure your guns are fake or is it if your guns are real make sure your beers are fake I forget . . . here's a fully bearded young Lieutenant Wayne-O and who may be Bob Dylan's third cousin a young Steve Zimmerman checking out what's on top the hill of Rancho Bozo. Suburbian Cowboys were sighted on the grounds.






There is a man who left Santa Barbara to live in the rugged independence of Fort Bragg California . . . as a deligate for the Democratic party . . . musician singer/songwriter . . . de lux . . . dad husband mechanic . . . Sean still in his teens in this pic behind Sean is the fence that kept Turk Hesslund's anex at bay . . .Sean like the old Captain married stayed married, has kids in college, bought ranch up north, except Sean's ranch has acerage . . .


Playing on a '38 Dobro in the jam and livin' room of Rancho Bozo. Who is this strumming cowboy? Come on guess? . . . Why it's a young Dr. Dog Boy, of course.


These are two of the the three Thompson girls Wendy Thompson and Laurel Thompson with the head bozo of the ranch. We had a big job cleaning up but we still could party. It seems as though we were locally responsible for turning party into a verb (as to party). . . and not fade away . . .



Suburbian Cowboy and Canadian Princess with Tyrone the wonder dog at the FIRE pit . . . rancho bozo was a campfire toasting the mellows and somemores, telling stories, and sharing new songs oh yes the occasional fire dance at the little pit would sure a mighty fire dwell. This pics going back to photoshop. view of the fire pit from atop 'Cecil's Stairs'

Al C. and Wayne-O check the emergency safety equiptment at the firepit bench. Safety was always a major consideration for campfires and fire dances.
Slightly north east of the fire pit Piano Steve digs a pit later known as "Wounded Knee" . . .


Rancho Bozo was intended to be enviornmental art from the get go . . . often with a function the South Pacific "Welcome Back Commodore" bash was no exception . . . the hula dolls are on display from the Christina by the Sea Collection . . . Cristina is vounteering at the bar - serving drinks at the Commodore Bash . . .


A smiling sentry that bears a slight resemblence to the clown that Larry copyrighted . . . you found it you've freed yourself from the restrictions linear time and space you've arrived at Rancho Bozo . . . you may continue exploring Rancho Bozo Anex!



[RanchoBozo]

[SONGS] [FIREpit] [ramblings] [InTown] [COOL LINKS] [ELKINsDIET]